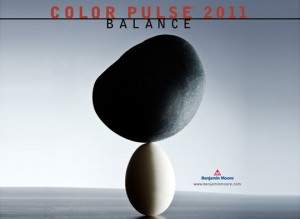 BALANCE is an attribute that we all strive to live.  Sorting the Real from the Surreal defines priorities that drive the direction for 2011, as it gives us a chance to dream of the future.  From the rural influences to urban application, BALANCE is supported by 4 themes for COLOR PULSE 2011: The Farm, Order, Escape, and Tribe.  Benjamin Moore's annual COLOR PULSE forecast has won awards and received international recognition.  Experience how this essential color and design resource can keep you moving forward with the latest information on color and design trends:
Color & Design Inspiration and Insight
An Inside Track to Color Direction
Color Trends Two Years in Advance
Join us in this exclusive Color and Design Forecast event.  This is the first time this presentation has been brought to the Inland Northwest.
Date: February 9, 2010
Time: Lunch & Presentation at 12:00; doors open at 11
Location: The Lincoln Center @ 1316 North Lincoln Street, Spokane
Speaker: Mary Hoffman, Benjamin Moore
Cost: $10 for all construction association members; $30 non-members
Space is limited to the first 60! RSVP today by e-mailing programs@csispokane.org

asdfasdf